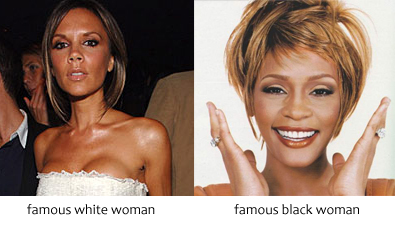 Why is the darker woman on the left called white and the relatively similar featured lighter woman on the right called black?
One of the things that struck me about the controversy surrounding Michael Jackson's bleached skin and thinned features (the latter co-incidence suggesting the former wasn't just vitiligo) was how extremely stereotypical racial classification is and how much it has to do with history. Michael Jackson ended up looking like a cartoon of a white woman.
In the US if you are of partially African and partially European decent you are most likely to be called black, suggesting that there is a notion of being 'tainted'. The very fact that the half white, half black, President Obama is called black is proof of this prejudice.
The reverse is not quite the same. A person is often not tainted white in Africa as we will see with Obama's trip there this week. That is not to say that people from various African nations are less prejudiced, just that the prejudices tend not to apply to 'American Africans' a term which shows the arbitrariness of African American and that the groupings where prejudices apply depend on local history.
The grouping of an entire continent which contains the majority of the worlds racial diversity, under one umbrella term 'African' is also an absurdity arising from the cruel fact that many people's origins have been erased beyond the ability to pick a continent.
A randomly picked person from Africa will be as genetically different from another African as a randomly picked non-African. Someone from Ethiopia will typically have thin features and a Bushman may have fairer skin that Victoria Beckham's tan. At the very least what it is to be black or white is blurred.
Victoria Beckham is a good way to illustrate this absurdity as the picture above demonstrates adequately. Both her features and skin tone appearing no more or less African than Whitney Houston in the picture above. Yet one is 'black' woman and the other is a 'white' woman.