In 1994 I started the first Internet company, Realtime Anywhere, in Shoreditch, what is now, 20 years later the center of London's 'Tech City'. What was London's Internet center like then and how has it changed?

The reason I know Realtime Anywhere was the first is that there were almost no Internet companies in Britain and almost no technology businesses of any sort in Shoreditch, where all of the people involved in creative industries there knew each other. After the property crash of the 80s, when Interest rates hit 18%, light industrial units around Hoxton and Shoreditch, were often derelict, rents were cheap and the area boasted the largest proportion of artists of anywhere in Europe.
I was an architect at the time and several architect friends had moved there into quirky, unusual places. A friend, Dan Philips' place was so big you could ride a bicycle in it and one local resident lived in a signal box on a disused railway line that you had to get to by ladder. I found an empty and very cheap, 3 storey warehouse in Cotton's Gardens, near Hoxton Square for roughly the price of a parking space today (40,000 pounds) and changed the usage to live-work. This was a new planning option which had been brought in as services like desktop publishing had replaced the partially toxic light industries such as printing that circled London's financial center. Redevelopment of Liverpool Street station had pushed the boundaries of city workers' lunchtime excursions northwards, bringing a cluster of seedy strip clubs, or more accurately 'strip pubs', most of which have disappeared apart from the infamous Brown's where bankers and East End gangster's would mingle to gawk at lunchtime strippers who included the woman who ran it's daughter.
There were no Shoreditch pubs or bars open at the weekend except the Bricklayer's Arms on Charlotte St. and the ironically parochial Charlie Wright's International Bar. Both were served by Lil, an orange-rinced barmaid from a Carry-On film. Despite the lack of fancy bars, shops or drinking club franchsies like Soho House, the atmosphere was surprisingly similar to today. Shoreditch still looks superficially grim and somewhat Dickensian despite the gentrification and it isn't so much more colorful on deeper inspection, as creative professionals have displaced the more avant-garde who decamped to places like Berlin. The London Apprentice gay club was there in the 90s and the Blue Note was the first piece of nightlife to sit on Hoxton Square. In the mid 90s, just under the railway bridge over the Kingsland road, the first Vietnamese restaurant opened, now part of what could justifiably be called Vietnam-town.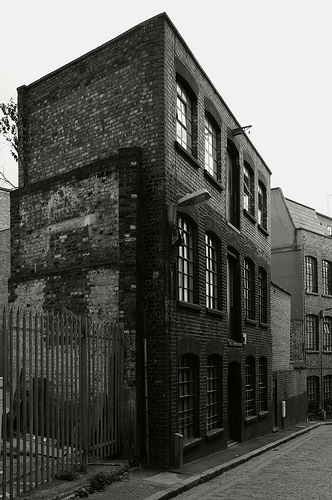 Myself and Markham Darbyshire started Realtime Anywhere in 94 from my living room at 5 Cottons Gardens. His dad came to give us advice and when we said that we thought there was a business in creating websites for people it wasn't obvious there was a market for that. We also thought domain names might actually have a value but we'd need money to host them (domains were free to register, but you had to have an IP address to host them and Demon Internet in Finchley were the first place in the UK that you could do this for reasonable cost). We registered anywhere.com as our domain and our company email address was anyone@anywhere.com.
We had dial up Internet and later ISDN. My friend Simon Perry started an Internet company, POW communications, down the street and he was the first to have a leased line with a then impressive 64kb connection. Simon kept an Internet diary at the time, noting down the first time he heard people mention the web in the Bricklayers' (Bloody hell – can you imagine people are actually talking about the Internet in Shoreditch!), the first time he saw a URL on a billboard or read out on TV.
We started working on more involved projects, a school friend Angus Bankes who had co-founded a healthcare technology company joined and we developed an Intranet connecting hospital staffing around the UK, a genealogy service for Scotland's government records (with my father, who had even earlier Internet cred, having written possibly the first Internet book – The Electronic Mail handbook, in 1979) and some experiment projects such as a 3-d search engine. We then teamed up with Nick Denton, who now runs Gawker Media, and I later moved to San Francisco to create the first news aggregator, Moreover.
At the time, however, Shoreditch was considered a backwater, and when in 97 we were given the opportunity of an office in Soho, above Mr Bongo records in Poland Street, in exchange for doing their website, we jumped on the chance to move somewhere that would improve our credibility as a technology company.